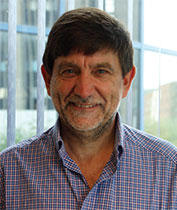 Ged Corcoran, BSc, MS, FRCS

Consultant in Palliative Medicine, Marie Curie Palliative Care Institute Liverpool, University of Liverpool
School Of Medicine Keynote Speaker – January 27, 2017
---
Speaker Profile
Dr. Ged Corcoran qualified at the London Hospital Medical College, University of London, UK, in 1975. Having spent his student elective at St. Jude's Hospital, St. Lucia, he returned to the Windward Islands in 1979 and spent one year working in the General Hospital and at St. George's University School of Medicine in Grenada. In 1990, Dr. Corcoran was appointed Consultant in Palliative Medicine at St. Gemma's Hospice in Leeds, UK, and in 1993 moved to Liverpool, to establish a new Specialist Palliative Care Team at University Hospital Aintree and to start a hospice service in the campus of the hospital. The service has now consolidated and provides specialist palliative care for a population of 330,000 residents in North Liverpool and provides specialist training to doctors (specialist registrars) on the Merseyside Training Programme in Palliative Medicine.
In 1998, Dr. Corcoran was appointed Lead Clinician for Cancer Services at Aintree and from 2000-2011 was Medical Director of the Merseyside and Cheshire Cancer Network which covered a population of 2.2 million people and involved the integration of cancer services across 12 major hospitals in the region.
Dr. Corcoran has been involved in developing regional and national guidelines for palliative care and End of Life Care (EoLC). In particular, he was a member of the Editorial Board for National Improving Outcomes Guidance on Supportive and Palliative Care for Adults with Cancer. He was also a member of two working groups involved in the development of the National End of Life Care Strategy published by the Department of Health in 2008.
From 1994-2010, Dr. Corcoran was Medical Advisor and Lecturer on the Diploma in Ethics of Cancer and Palliative Care, University of Keele and Marie Curie Hospice Liverpool. He also established an Ethics Forum at Aintree University Hospital, which met to discuss EoLC issues including euthanasia, clinically assisted nutrition, hydration, and symptom control at the end of life. In recent years, he has been Guest Lecturer to the Nordic Course in specialist palliative care in Sweden and Finland and Visiting Professor in bioethics at SGU.
Since his retirement in January 2012 from his post at Aintree Hospitals, Dr. Corcoran is part-time Consultant in Palliative Medicine at the Marie Curie Palliative Care Institute Liverpool, University of Liverpool. He continues to be involved in palliative care education for health professionals and also for the general public. He has a particular interest in trying to improve the availability of strong opioids for pain relief in the Caribbean.
https://www.sgu.edu/wp-content/uploads/2017/01/Dr.-Corcoran.jpg
210
177
Erin Shaw
https://www.sgu.edu/wp-content/uploads/2020/02/sgu-logo-grenada.svg
Erin Shaw
2017-01-28 04:20:45
2017-01-28 04:24:06
Ged Corcoran, January 2017