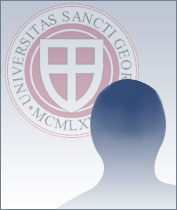 John A. Schmitz, DVM, PhD
School of Veterinary Medicine Keynote Speaker – August 23, 2002
---
Speaker Profile
John A. Schmitz, DVM, PhD is presently head of Veterinary and Biomedical Sciences, University of Nebraska-Lincoln. He is also Director, Nebraska Veterinary Diagnostic Laboratory System, University of Nebraska–Lincoln.
A graduate of Oregon State University, Corvallis, Oregon with a pre-veterinary medical degree, Dr. Schmitz earned his DVM from Colorado State University, Ft. Collins, CO and PhD from University of Missouri, Columbia, Missouri. Dr. Schmitz is licensed for Veterinary Practice in California, Oregon and Nebraska. He is also a Diplomat in Pathology at the American College of Veterinary Pathologists. In addition to his present positions, Dr. Schmitz was Director, Veterinary Diagnostic Laboratory, College of Veterinary Medicine, Oregon State University, Professor, Department of Veterinary and Biomedical Sciences, University of Nebraska-Lincoln, Pathologist.
Dr. Schmitz is responsible for initiating two undergraduate majors at University of Nebraska-Lincoln: Veterinary Science and Veterinary Technologist, leading to a Bachelor of Science degree in Agriculture. In addition, he initiated a PhD degree program in Medical Sciences in cooperation with University of Nebraska Medical Center.
Recent appointments for Dr. Schmitz include: Nebraska Veterinary Medical Association, Board of Directors, Chair, Committee on Infectious Diseases of Cattle, Bison and Llamas, United States Animal Health Association, Nebraska Representative, APHIS National Animal Health Reporting System (NAHRS) Steering Committee and Administrative Advisor, Diagnosis and Control of Microbacterial Diseases of Domestic Animals and Wildlife.
Dr. Schmitz has over 60 published articles in journals to include: Journal of Trace Elements and Electrolytes in Health and Disease, Calcium Uptake and AT Pase Activity of Sarcoplasmic Reticulum Vesicles Isolated from Control and Selenium Deficient Lambs.
https://www.sgu.edu/wp-content/uploads/2017/01/no-image.jpg
210
177
VS
https://www.sgu.edu/wp-content/uploads/2020/02/sgu-logo-grenada.svg
VS
2017-01-26 17:24:05
2021-01-12 16:12:05
John A. Schmitz, August 2002