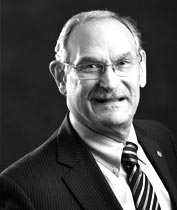 Theodore J. Cohn, DVM
School of Veterinary Medicine Keynote Speaker – January 15, 2014
---
Speaker Profile
Elected the President of the American Veterinary Medical Association (AVMA) for 2013-2014, Dr. Theodore (Ted) Cohn has devoted more than 35 years of service to the people and animals of Colorado and the veterinary medical profession, distinguishing himself as a veterinarian in Colorado and a leader, both locally and nationally.
Prior to his election to AVMA Executive Board in 2006, Dr. Cohn served on and chaired several AVMA task forces, committees, and subcommittees, and he spent seven years in the AVMA House of Delegates, representing Colorado veterinarians. During his tenure on the Executive Board (2006-2012), Dr. Cohn served in many different positions, including in his final two years, as Vice-Chair and then Chair of the Board. While serving on the Executive Board, he chaired the Insurance Liaison Committee, the Task Force on Strategic Planning and the Economic Vision Steering Committee. Dr. Cohn was also the Vice-Chair of the Task Force on Future Roles and Expectations.
Born in Little Rock, Arkansas, Dr. Cohn has been a leader in veterinary medicine from the time of his veterinary school days, when he represented Tuskegee University in the Student AVMA's (SAVMA) House of Delegates. He has served as the president of both the Denver Area Veterinary Medical Society (DAVMS) (1986-1987) and the Colorado Veterinary Medical Association (CVMA) (1996-1997). Dr. Cohn was honored as the recipient of the CVMA President's Award in both 2003 and 2012 and was named as the Colorado Veterinarian of the Year for 2006. In 2009, the Colorado Association of Veterinary Technicians honored him with their Technician Advocate Award, and most recently, Tuskegee presented Dr. Cohn with their Distinguished Alumnus Award, in 2013.
Dr. Cohn attended the University of Colorado followed by the University of Arkansas at Little Rock in pursuit of his Bachelor of Science degree in biology. Following vet school, Dr. Cohn began his career in private practice as an associate veterinarian at Aspenwood Animal Hospital, where he worked from 1976 to 1983. Next, he took a position at University Hills Animal Hospital, where he has been a partner and hospital director since 1985. From 1983 to 1988, Dr. Cohn also served as a consulting veterinarian for the Denver Zoological Gardens. Dr. Cohn was named Western Region Practitioner of the Year in 1997 by the American Animal Hospital Association (AAHA), an organization with which he has been active for over 35 years. In 2013, he graduated from the certification course in veterinary acupuncture at the College of Veterinary Medicine and Biomedical Sciences at Colorado State University.
Dr. Cohn has been married to his wife, Becky, since 1970. Becky runs her own business and has been an active member of the Colorado VMA Auxiliary for many years. The Cohns have two grown daughters, Corinne and Jen, and while currently between dogs, they enjoy living with a noisy 30-year-old parrot and a very spoiled cat.
https://www.sgu.edu/wp-content/uploads/2017/01/tcohn-large.jpg
210
177
VS
https://www.sgu.edu/wp-content/uploads/2020/02/sgu-logo-grenada.svg
VS
2017-01-25 17:20:11
2017-01-25 22:05:22
Theodore J. Cohn, January 2014