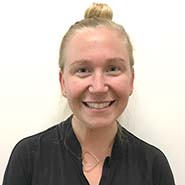 Amanda Halstrom, MD
Graduation Date: 2017
United States
Winthrop-University Hospital
Internal Medicine
Fifteen minutes from where she grew up, Amanda Halstrom will continue her career in medicine, having matched into the internal medicine residency program at Winthrop-University Hospital in Mineola, NY. She celebrated with her SGU colleagues while working in the University's student call center between hospital shifts.
On the list of those who are excited about her return home—just about everyone.
"My family is over the moon," she said. "My grandparents, my cousins, my friends—they're very excited to have me back."
In addition to its proximity to home, Winthrop has everything Ms. Halstrom was looking for in a residency program, which is why she made it her top-choice site. She highly valued the hospital's wide range of research opportunities as well as fellowships in her projected field of study—gastroenterology—which she found during her clinical years to strike a good balance of procedural and clinical medicine. Ms. Halstrom also enjoyed meeting the program residents, and received positive vibes from St. George's University graduates who had trained at the hospital.
"I heard they loved it, and that helped in selling it for me," she said.
Ms. Halstrom has long set her sights on training and practicing on Long Island. She grew up in Bellmore and went on to earn her bachelor's degree from the University of Delaware. At SGU, she immersed herself in her studies, while also partaking the University's Iota Epsilon Alpha chapter and tutoring in the Department of Educational Services. The skills and knowledge obtained in four years at SGU paved the way for her to return home to family, friends, and a burgeoning medical career.
"I studied really hard and took my time at SGU as seriously as possible, but I also enjoyed my time on the island," Ms. Halstrom said. "SGU was an amazing experience that not many people have, and I feel fortunate to have had the opportunity. I definitely recommend it for anyone who's interested in medicine."
Published May 2017
Find out if St. George's University is right for you.
https://www.sgu.edu/wp-content/uploads/2020/02/sgu-logo-grenada.svg
0
0
bpmauser
https://www.sgu.edu/wp-content/uploads/2020/02/sgu-logo-grenada.svg
bpmauser
2017-05-09 21:48:34
2021-01-20 15:34:51
Amanda Halstrom, MD