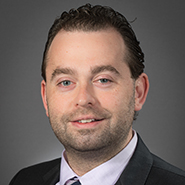 Andrew Persits, MD
Graduation Date: 2010
United States
Peconic Bay Medical Center
Interventional Cardiologist
Undergrad: Chemistry and Psychology, Boston University
Residency: Internal Medicine, SUNY Downstate Medical Center
Chief Residency: Internal Medicine, SUNY Downstate Medical Center
Fellowship: Cardiology/Interventional Cardiology, North Shore University Hospital
Last summer, you completed your interventional cardiology fellowship at North Shore University Hospital and began at Peconic Bay as an attending. How do you look back on the journey?
"It's a little surreal. Each step along the way, you're so focused on the next step in the process—residency, chief residency, fellowship, getting a job, another step exam, another board exam. Now I look back, I am so thankful for where it's taken me and for those who have helped along the way.
"It's really my dream job. I see patients in the office three days a week, and then I do procedures like angiograms, catheterizations, stents, and valve replacements the other two days. Some days I'll round at the hospitals, I'll read EKGs, or go where I'm needed."
PBMC opened its new cardiac cath lab in October 2017. How has that changed the landscape of medicine in the region?
"Before the cath lab opened, patients would have to be transferred from here or Southampton Hospital all the way to Stony Brook University Hospital, which is an hour away give or take. It was an underserved population as far as Long Island goes. The new facility has already made such a difference.
"Recently there was an elderly gentleman who lived on Shelter Island—about 30 minutes east of here and even farther away from Stony Brook. He was driving back from a holiday trip when he began to experience chest pains. He stopped in the parking lot of our hospital, he was helped in, and we had him on the table within a half hour to open up his artery. If he had waited or gone back home, there's a chance he might not be with us right now. The community has been very grateful, and we're grateful for the opportunity to help."
What initially prompted you to pursue cardiology?
"It had been my dream to be a doctor since I was 2 or 3 years old. One of my best friends growing up had open heart surgery twice, and seeing him go through that, with several trips to the hospital at such a young age, it's one of those things that drew me toward cardiology.
"As an undergrad, I did some research through the Pediatric Cardiomyopathy Registry, which tracks children who inherited conditions that led to heart failure. I worked under Dr. Daphne Hsu, who was with Columbia at the time and is at Montefiore Medical Center, sitting in on procedures and consulting with patients.
"Then at SGU, I spent all of my first clinical year at Maimonides Medical Center, which is where I was born. When I was there—in addition to meeting the doctor who delivered me—I saw just how much cardiology factored into just about everything that went on there. We saw a wide array of patients of different ages and ethnic backgrounds.
"I really enjoy it. To open someone's artery, to put in a stent, and to see them get better and go on to live a long, healthy life afterward, it doesn't get much better than that as a doctor."
How would you describe your experience at St. George's University?
"I got an absolutely awesome education from SGU. I went to Grenada and made some very close friends. We were all going through something that only we could understand. Our parents can't. Our friends from home can't. We all went to SGU with the same ultimate goal—to become a physician. We knew that we were in the trenches together to make that happen for everyone. We all worked hard and we made it happen."
In what ways did SGU's support services help you during your time as a student?
"I received tutoring in anatomy and histology, which I hadn't done much of in undergrad. Medical school is completely different from anything you've done before just because of the sheer volume of material that there is. At first, you don't even know where to begin. The support and tutoring at SGU really help you focus your attention and give you the confidence that you can get through it. I'm very grateful for the help.
"Of my circle of friends, we all ended up in the specialties that we wanted, whether it's interventional radiology, emergency medicine, anesthesiology, hematology and oncology, trauma surgery, pediatric dermatology, or for me, interventional cardiology. We all felt very prepared for the step exams, we did our clinical rotations in some terrific hospitals, and we learned how to become physicians."
Published January 2019
Find out if St. George's University is right for you.
https://www.sgu.edu/wp-content/uploads/2020/02/sgu-logo-grenada.svg
0
0
bpmauser
https://www.sgu.edu/wp-content/uploads/2020/02/sgu-logo-grenada.svg
bpmauser
2019-01-04 19:47:32
2021-02-02 14:56:10
Andrew Persits, MD