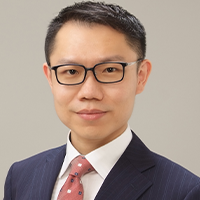 Kansho Abiko, MD
Graduation Date: 2020
China/Japan
Jefferson Abington Hospital
Internal medicine
Dr. Kansho Abiko's interest in becoming a doctor was born out of living his formative years across three different countries. Born in Tianjin, China, Dr. Abiko moved to Japan at the age of 12, where he attended junior high school and high school. When it was time for college he settled in the United States where he earned his Bachelor of Science in biochemistry at the University of Buffalo, before heading to St. George's University for his medical education.
In addition to always wanting to help people as a child, he also sought to obtain the skills and knowledge used in different countries and regions to treat people.
"Medicine is a science that transcends national languages, races, and physicians," Dr. Abiko said. "It can address patients' suffering when they are most difficult and in need. That's why I wanted to become a doctor."
Presently, Dr. Abiko is an internal medicine resident at Abington Memorial Hospital Jefferson Health (now Jefferson Abington Hospital) in Abington, PA. He shared how he discovered SGU, details the process of becoming a doctor in the US, and the advice he gives to aspiring medical students.
St. George's University: When and how did you learn about SGU?
Dr. Abiko: When I was in college in Buffalo, I shadowed local doctors, including SGU graduates, who recommended this university to me. During the same period of doctor shadowing, I came to realize that the United States was advanced in basic sciences and clinical research. Doctors can use these research results effectively and quickly in clinical treatment and diagnosis.
SGU: Explain what a residency is in the medical school process and what challenges lie in it for international students trying to get into medical school.
Dr. Abiko: The so-called residency in the United States is the first job for all doctors after graduating from medical school, and it is also the first clinical training that all doctors must undergo. At that time, as an international student in the United States, it was very unlikely that I would be admitted to a US medical school. Compared with medical schools in other countries, SGU could help me return to the United States as a resident, or, as a university that is most likely to place me in a residency, so I chose SGU.
SGU: Can you explain what the United States Medical Licensing Exam (USMLE) is?
Dr. Abiko: A person who wants to be a doctor in the United States must obtain a residency placement in the United States. But there are two challenges: the first one is USMLE (United States Medical Licensing Exam). This is the physician licensing exam that all doctors must pass in order to become licensed in the US.  The exam is difficult, especially for doctors or students who do not study medicine in English, however SGU provided me with many resources to help excel on the exam.
SGU: What is the hospital application process for becoming a resident in the US?
Dr. Abiko: First, applicants must submit a Statement of Purpose form or application form to the hospital. This starts from the end of September of your fourth year of medical school.  The hospitals will look at the students' grades through the application form, as well as letters of recommendation provided by doctors in the US, and other elements. The hospitals will then invite some of the students for interviews. Interviews are conducted between October and February of the following year.
Students generally apply to many hospitals and are invited to interview by some of them. In previous years, we would fly to every city to interview at every hospital.
SGU: What is the Match process like for medical students and how does it work?

Dr. Abiko: Candidates and students provide a list to rank the hospitals they want to go to, and the hospitals also provide a list at the same time, listing the types of residents or students they want. These two lists are processed by a third-party organization, and they use a computer program that matches the students with the hospitals. On the third Friday in March each year, the students get the results of the Match program and learn where they are going for residency.
SGU: Where and when did you Match and how did you feel about it?

Dr. Abiko: I was matched to the internal medicine department at Abington Memorial Hospital Jefferson Health (now Jefferson Abington Hospital). This is a medium-to-large community hospital located north of Philadelphia, PA. I'm very happy with this result because this hospital has a very good residency education program, and their doctors take education very seriously.
SGU: How did an SGU education, which is USMLE-focused and includes clinical rotations in the US, help you to become a doctor?
Dr. Abiko: I think my education at SGU gave me a great advantage throughout the application process. All SGU courses are taught in English and are based on the USMLE syllabus. This helped me get good grades. Moreover, the clinical rotations in Year 3 and 4 are also carried out in the United States. This gave me ample opportunity to learn from many doctors in the US, and at the same time for me to demonstrate my ability in the process of working with them. In the end, I got a lot of good references.
SGU: What advice would you give to aspiring doctors?

Dr. Abiko: Medicine is not a very difficult or complicated subject, but there are many things to learn, and the constant updating of this knowledge requires doctors to learn constantly. Doctors carry a heavy burden, and every medical decision they make is based on their knowledge and experience, and every decision has the potential to impact a patient's life. It doesn't sound glamorous. But what if you think about it from a different angle? When doctors can help patients solve major health issues in life, doctors get a satisfaction that no other profession can compare.
SGU: Any last words of inspiration to medical students on their path to becoming a doctor? 
Dr. Abiko: It's a good start to have an interest in medicine. Don't forget your original intention. Use your desire to become a doctor plus your hope as a driving force to keep working hard. If you don't give up, you will be successful.
Find out if St. George's University is right for you.
https://www.sgu.edu/wp-content/uploads/2020/02/sgu-logo-grenada.svg
0
0
lchartor
https://www.sgu.edu/wp-content/uploads/2020/02/sgu-logo-grenada.svg
lchartor
2023-01-20 10:11:17
2023-02-23 09:04:54
Kansho Abiko, MD