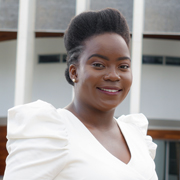 Kerryne James, BSc
Graduation Date: 2021
Grenada
Government of Grenada
Honorable, Minister for Climate Resilience, the Environment and Renewable Energy
Kerryne James, BSc '21, grew up in a working-class family in the town of Gouyave in the parish of St. John. Although life was not always easy, she learned from a young age the importance of hard work and the value of education as a tool that can be used to empower yourself and change your circumstances. Now as the Honorable, Minister for Climate Resilience, the Environment and Renewable Energy, and the youngest female to hold the position, she's harnessed those early teachings and applies them to everything she does in service of her country.
Decidedly different from her peers, Minister James became involved in politics from the tender age of 15. In 2016, during her second year at T. A. Marryshow Community College (TAMCC) she was hand selected by the National Democratic Congress (NDC) to become one of the youth members representing Grenada at the National Sustainable Development Plan 2030. She describes the experience as having opened her eyes to the reality that young people who came from rural parts of the island were being overlooked and underrepresented in that realm of conversation.
Having always loved modeling and fashion, 2016 was also the year she would place second in Grenada's National Carnival Queen Show. It was while touring on the pageant trail, she saw firsthand so many of the residents from her beloved hometown living in such desolate conditions and felt the overwhelming need to help. She would go on to use the pageant as a platform to showcase that the people of Gouyave were also multi-talented and could represent Grenada well—outside of sports and music. This was also the moment she felt something awaken in her and she decided to officially enter the political arena.
Originally, the Minister thought she would pursue a career in law, even majoring in law, geography, and sociology while at TAMCC. However, she would later apply to St. George's University (SGU) to study psychology to make sure she knew exactly who she was and what she wanted to achieve for herself—not for her parents or anyone else.
From becoming a senator, while studying at SGU, to being elected the youngest female minister in the region, Minister James shared with SGU News her journey from student to politician.
St. George's University: As the newly elected Minister for Climate Resilience, the Environment and Renewable Energy, describe what stands out or excites you most about your job? 
The Honorable Minister Kerryne James: Getting the opportunity to create policies, programs, and projects that would help elevate and change the status quo of my country, as well as having a positive impact on our young people and especially women, is what excites me about this job. I have a portfolio that requires me to be off-island frequently and attending international negotiating tables, round tables, and conferences where there aren't many there who look like me.
I'm in a position where I can show others who we are and what we have to contribute to the larger conversation. We all have unique challenges when it comes to the environment, but it is only when we speak up can the more developed countries realize the impact they're having on these smaller states. Being that storyteller for them is something that is very powerful.
"SGU has prepared me for both educational and professional advancement. It has shown me that although life can be difficult to balance at times—consistency is important."
SGU: What are you most looking forward to accomplishing in your new role? 
Minister James: My goal is to fulfill my campaign promises to my constituents, especially the farmers and fisherfolks who are very close to my heart. I'm looking forward to developing our infrastructure in the parish of St. John—helping it to become more climate resilient and climate smart. I also want to help educate and train our young people and create an environment where our women can feel that there is a space for them and support for them to lead the way.
SGU: We've noticed you wearing styles from local fashion designers, why is it important to you to support Grenadian entrepreneurs?
Minister James: As a former beauty queen contestant, fashion has always been near and dear to me. I believe that you have to dress how you want to be addressed and that you're firstly judged by how you look and what you wear before you even speak. Therefore, every opportunity that I get to be different and to stand out, I'll take it. I have my own sense of style and I always strive to be authentically me. I wear local because it reminds me of where I come from, and it gives me an opportunity to market my country's talented entrepreneurs. I can show that I am a living example and that, if you apply yourself, you will get noticed and you can make a career path where there wasn't one before.
SGU: How well do you feel that SGU prepared you for the next step in your journey?
Minister James: SGU taught me how to be serious, how to take initiative, and it taught me time management skills. I had really supportive friends and faculty at SGU, and the resources were numerous. The Psychological Services Center was there to help with your wellness and the Department of Educational Services was there to help you stay on track with your classes.
SGU: Describe how you became a senator? And why you accepted the position?
Minister James: University life was initially tough because there was no more handholding like in high school. I had to adapt to this new fast-paced environment. During my third month at SGU, I got a call from the Governor General's office stating that my name was selected as one of three to become a senator. My jaw dropped and I thought I was being pranked. However, I accepted even though I thought to myself this wasn't why I originally got involved in politics. I simply wanted to do my part and be a youth advocate within the party. But, after speaking to a few people in my close circle, I decided to give it a shot. I was called to serve, and I would put my best foot forward. I would figure out how to balance school life and state life as a senator.
SGU: Were you involved in any extra-curricular activities or student clubs while at SGU?
Minister James: I was an executive member of the Humanities and Social Sciences Association (HS3A) and I had quite a wonderful experience and felt like I really made a difference in that student organization. Due to COVID-19, all the big events we had planned that term did not materialize, but one of our biggest accomplishments was creating a well-produced video in recognition of World Mental Health Day, which garnered local media attention to help educate our population on how we should treat people with mental illness.
Another major achievement while I was in HS3A was our visit to the Father Mallaghan's Home for Boys. We felt like those boys could relate to us and they could speak to us. We were able to help them with assignments and give them words of encouragement that, despite their current circumstances, they could change their future. We were able to touch the lives of these young men and to this day they remember us.
SGU: What advice would you give to prospective students who are considering applying to SGU?
Minister James: Attending a university will be challenging, but your primary interest should be to do your best. Obtaining that degree from SGU will be so worth it. And when you get to SGU, stay grounded and commit to what you set out to do. All the resources are there for you to succeed. You just have to show up and take advantage of this opportunity. SGU prepared me for both educational and professional advancement. It has shown me that although life can be difficult to balance at times—consistency is important. And if you fail to prepare yourself for opportunity, it can slip by you very easily.
SGU: What is one of the greatest accomplishments you've achieved in your career so far?
Minister James:I would have to say becoming the youngest sitting senator in the House of Parliament in all the Commonwealth nations. I was also the lone female who won a seat in Grenada's recent elections from the winning party, the National Democratic Congress. I've achieved all of this under the age of 25. Politics remains a male-dominated arena, so to be so young and a woman and to achieve so much already, is my greatest accomplishment so far.
Find out if St. George's University is right for you.
https://www.sgu.edu/wp-content/uploads/2020/02/sgu-logo-grenada.svg
0
0
lchartor
https://www.sgu.edu/wp-content/uploads/2020/02/sgu-logo-grenada.svg
lchartor
2022-12-29 15:45:56
2022-12-29 15:45:56
Kerryne James, BSc