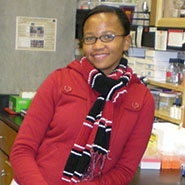 Orapeleng Phuswane, MD
Graduation Date: 2011
Botswana
Pediatrics
Princess Marina Hospital
Dr. Orapeleng Phuswane, who hails from Mochudi, Botswana, is a 2003 graduate of Naledi Senior Secondary School. She is currently Medical Officer in Pediatrics at Princess Marina Hospital in Gaborone and is "loving every moment." She credits the plentiful hands-on experience at St. George's for preparing her for the stint there, where she routinely visits with patients one-on-one and assists on operations.
"We don't have a lot of doctors here so I'm looking forward to the opportunity to improve my own country," she said. "Hopefully in the future I will be able to open my own practice."
Dr. Phuswane earned her Bachelor of Science in Basic Medical Sciences from St. George's University in 2007 and went on to garner her Doctor of Medicine from St. George's University School of Medicine in 2011. In doing so, Dr. Phuswane completed her rotations at Stafford Hospital in the UK, where she was named a chapter member of the Gold Humanism Honor Society, which recognized senior medical students and residents who have demonstrated excellence, dedication, and leadership. In 2012, she completed a one-year medical officer internship at Princess Marina, and in 2015, through having earned a prestigous Mandela Washington Fellowship for Young African Leaders, she spent seven weeks learning methods of operating in government at Syracuse University's Maxwell School.
While working toward her MD in Grenada, Dr. Phuswane volunteered as a counselor at a program for adolescent mothers and also worked as a tutor at Bel Air Children's Home, a not-for-profit organization dedicated to caring for and teaching underprivileged children. In 2012, she served as the SGU School of Medicine class speaker at the first-ever SGU commencement ceremony in Botswana, at which government officials, family, and friends were in attendance. She also emceed the 2016 ceremony.
Dr. Phuswane said she is looking forward to a long career in pediatrics in Botswana, expressing that seeing children's joy after having been brought back to health is "the greatest reward in the world." She hopes to eventually own and operate a children's home focused on children with neurodevelopmental disorders.
"I really enjoy working with children," she stated. "It's great to see them smile when they feel better and to see the difference that you've made."
https://www.sgu.edu/sgu-main-website/wp-content/uploads/2016/01/SGU-Signature-Horizontal-SPOT-300x55.png
0
0
bpmauser
https://www.sgu.edu/sgu-main-website/wp-content/uploads/2016/01/SGU-Signature-Horizontal-SPOT-300x55.png
bpmauser
2017-06-23 20:58:37
2017-06-23 21:00:00
Orapeleng Phuswane, MD