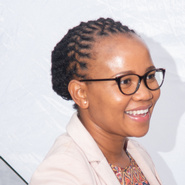 Orapeleng Phuswane-Katse, MD
Graduation Date: 2011
Botswana
Ministry of Health & Wellness, Botswana
Public Health
Dr. Orapeleng Phuswane-Katse, SGU MD'11, who hails from Mochudi, Botswana, one day hopes to be a "game changer" in the field of public health medicine in her country.
"We don't have a lot of doctors in Botswana so there is a lot of opportunity to impact the health system here," Dr. Phuswane-Katse said. "I enjoy pediatric community health care and I would like to improve policies and strategy planning in child health."
She is currently completing a residency in public health medicine at Botswana's Ministry of Health & Wellness division, where she engages in a range of public health issues including hospital management, occupational health, district hospital management, policy and strategy formulation, and management of both communicable and non-communicable diseases. Dr. Phuswane-Katse also gives lectures to undergraduate medical students at University of Botswana covering public health topics including outbreak investigations, vaccination programs available, and other health indicators.
She recently became the 2019 recipient of Best Youth in Promoting Health and Wellness in Botswana Award, awarded by the Botswana National Youth Council.
Dr. Phuswane-Katse earned her Bachelor of Science in Basic Medical Sciences from St. George's University in 2007 and went on to garner her Doctor of Medicine from St. George's University School of Medicine in 2011. In doing so, Dr. Phuswane-Katse completed her rotations at Stafford Hospital in the UK, where she was named a chapter member of the Gold Humanism Honor Society, which recognized senior medical students and residents who have demonstrated excellence, dedication, and leadership. Upon completing her medical degree, she was awarded the Gold Humanism Honor Award, which recognizes outstanding medical students who showed great compassion and dedication to the health of their community.
In 2012, she served as the SGU School of Medicine class speaker at the first-ever SGU commencement ceremony in Botswana, at which government officials, family, and friends were in attendance. She also emceed the 2016 ceremony.
Continuing on her list of accomplishments, in 2015, Dr. Phuswane-Katse was the first medical doctor from Botswana to become part of the prestigious Mandela Washington Fellowship for Young African Leaders (YALI), a six-week leadership program started by President Barack Obama for excelling young African leaders who have shown exemplary work in the communities they serve.
Currently, Dr. Phuswane-Katse is vice president of Botswana YALI Network, a network of the Mandela Washington Fellowship alumni, and a board member for Botswana United States Alumni Association (BUAA). She also has a Facebook Page, "Getting the Facts Right with Dr Phuswane-Katse," which aims to educate Batswana about common medical problems and empower them to take control of their health, and mentors students through the "Afrika Ithute" initiative and other platforms.
She credits the plentiful hands-on experience at St. George's for preparing her for her chosen field. "SGU taught me accountability, responsibility, and to be able to work hard to achieve my goals," she said.
Updated October 2019 
Find out if St. George's University is right for you.
https://www.sgu.edu/wp-content/uploads/2020/02/sgu-logo-grenada.svg
0
0
bpmauser
https://www.sgu.edu/wp-content/uploads/2020/02/sgu-logo-grenada.svg
bpmauser
2019-10-04 11:58:37
2021-01-20 15:51:34
Orapeleng Phuswane-Katse, MD