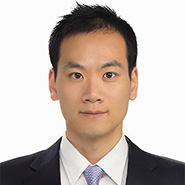 Seunghwan Kim
Graduation Date: 2015
South Korea
Driscoll Children's Hospital, Corpus Christi, Texas
Pediatrics Resident
Growing up in South Korea, Seunghwan Kim, MD '15, never dreamed he could become a doctor, but today he is a second-year resident specializing in pediatrics at Driscoll Children's Hospital in Corpus Christi, Texas. And he loves what he does.
"I feel I found an unlimited source of joy from practicing medicine," Dr. Kim said. "I can always find something to do for others. Also, being a doctor means a ceaseless dedication to self-learning in addition to always learning from your patients."
Dr. Kim's journey to becoming a doctor wasn't linear, nor was it easy. Living in South Korea, it was "extremely difficult" to get into medical school, Dr. Kim said, yet he always had a desire to help people in need. In addition to traveling a great distance, he had to learn English and acclimate to life abroad.
"Ten years ago, not many people knew about St. George's University and even fewer people, at least in South Korea, were willing to go to a Caribbean medical school," Kim said. "I heard SGU was the best one in the Caribbean and I took a chance."
The move paid off. He quickly fell in love with Grenada and life at SGU and hasn't looked back.
Going to SGU was "very, very, very wonderful," Dr. Kim said. "Studying medicine at SGU was exotic and fascinating. There are so many opportunities to explore and take as yours."
After completing his preclinical requirement at SGU, Dr. Kim entered the School of Medicine in January 2011. During that time, he made sure to immerse himself in campus events and clubs, as well as learning the Grenadian culture. "SGU gave me lifelong friends and unforgettable memories," he said. "I met so many wonderful staff and friends at SGU and got exposed to various cultures."
Dr. Kim said his SGU experience helped him become more sensitive to his patients' needs but also to embrace different personalities and cultures. He credits his involvement in club activities and group learning sessions to making him a better team player.
Following the birth of his eldest daughter, Dr. Kim decided to use his skills in the field of pediatrics. "I originally wanted to do emergency medicine, but when my daughter was born, I began to feel I wanted to work with children and protect them so that they can grow to their fullest potential," he said. "In addition, pediatric residents almost always appeared to be so happy when I met them during the interview season."
In addition to earning a Doctor of Medicine degree, Dr. Kim strengthened his residency resume by working as a research and teaching fellow, and by earning a Master of Business Administration.
Dr. Kim is still deciding his exact career path; he is considering starting as a general pediatrician and eventually hopes to do a fellowship in pediatric emergency medicine or pediatric urgent care.
"I am the first one in my family who studied abroad and now lives outside Korea," Dr. Kim said. "My parents are proud of me not because of my MD title but because I am doing what I love."
Published September 2019
Find out if St. George's University is right for you.
https://www.sgu.edu/wp-content/uploads/2020/02/sgu-logo-grenada.svg
0
0
lchartor
https://www.sgu.edu/wp-content/uploads/2020/02/sgu-logo-grenada.svg
lchartor
2019-09-11 19:07:42
2021-02-03 19:13:13
Seunghwan Kim