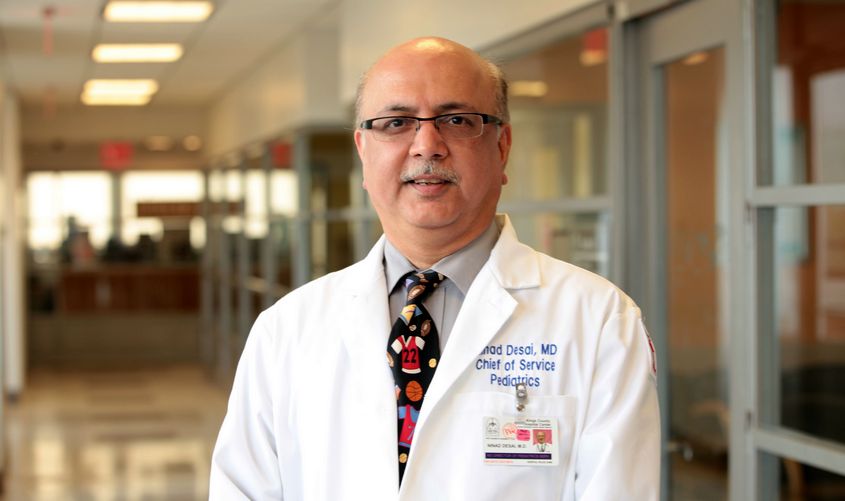 As a longtime pediatrician, Dr. Ninad Desai has cared for children across the globe, practicing first in his home country of India, as well as Saudi Arabia, before emigrating to the US.
Today, Dr. Desai is the chief of pediatrics at NYC Health + Hospitals/Kings County as well as the institution's chief academic officer, a role for which he oversees clinical trainees and resident trainees across all of the hospital's departments, including medical students from St. George's University.
Dr. Desai is also the chair of the pediatrics department for SGU's School of Medicine. As chair of SGUSOM's pediatrics department, he ensures that students receive an optimal clinical experience and education in pediatrics across SGU's 70-plus clinical sites by supervising the creation of the pediatric curriculum and making sure it meets all educational and regulatory needs. Above all, Dr. Desai said he enjoys helping to "foster a sense of compassion, care, and a true sense of medical ethics" in today's students.
Dr. Desai shared with SGU News why specializing in pediatrics can be a rewarding and fulfilling career.
SGU: Why did you choose pediatrics as a medical specialty?
ND: I was always passionate about caring for the most vulnerable amongst us. I went to medical school at the All India Institute of Medical Sciences in New Delhi, India, followed by a three-year residency in pediatrics there and a year as chief resident. This led to three years as a pediatric specialist in Saudi Arabia, then fellowship training in pediatric hematology/oncology at SUNY Downstate in Brooklyn, NY. I spent much of my career caring for children born with HIV infection. Today I am a steward of a large pediatric department, mentoring trainees at all levels.
SGU: What are some recent developments in the pediatric medicine field that is on your radar?
ND: We are closely watching the pervasive use of genetics in diagnosis, detection, and treatment of diseases as well as the use of advanced therapies such as biologic drugs in medicine. Many childhood illnesses have identified genetic aberrations and newer technologies such as CRISPR, for which this year's Nobel Prize was given in chemistry, will help us cure/prevent many of these conditions. Biologics are already being used widely in many immune-related and cancer-related conditions.
On the education front, I am deeply interested in incorporating quality, equity, and safety in pediatric medical education.
SGU: Why is pediatrics a gratifying specialty? What keeps you going in your job every day?
ND: The specialty is amazingly fulfilling. To me, if I save one child, I feel like I am saving the entire world. The care of children requires a special sensitivity, empathy, and involves not only the child but the entire family.
In addition, I am passionate about educating and inspiring the younger generation to become caring physicians—a legacy that will self-perpetuate, in my opinion. I enjoy mentoring and guiding students to hopefully inspire them to forge a career in primary care pediatrics or pediatrics-related specialties.
SGU: What is challenging about the field? 
ND: It's not easy to comprehend that the health of children is set to a very different tune than adult healthcare. Children are not just small adults; they come with their own unique set of problems and issues, and the skills and understanding required to bring a high quality of life to every child are different.
SGU: Can you share a key piece of advice for students who are considering pediatrics as their specialty?
ND: If you are seriously considering pediatrics as a career, I strongly urge you to choose a fourth-year elective in pediatrics at one of our great clinical sites. While the third-year core rotation is great, the elective will help you get a well-rounded experience.
— Laurie Chartorynsky 
https://www.sgu.edu/wp-content/uploads/2020/10/Ninad-Desai-chairofpediatrics-845x500-1.jpg
501
845
lchartor
https://www.sgu.edu/wp-content/uploads/2020/02/sgu-logo-grenada.svg
lchartor
2020-10-20 13:30:25
2020-10-20 13:31:04
Clinical Faculty Spotlight: Dr. Ninad Desai, Chair of Pediatrics for SGU's School of Medicine