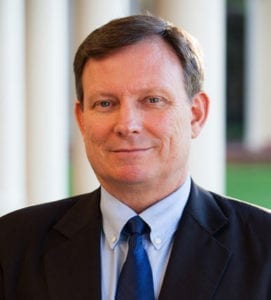 Calum N.L. Macpherson, PhD, DIC
Vice Provost, International Development Program
Dean, School of Graduate Studies
Director of Research
Professor, Parasitology, School of Medicine
Professor, Veterinary Parasitology, School of Veterinary Medicine
Email: cmacpherson@sgu.edu
Website: https://www.sgu.edu/windref
Phone: (473) 444-3068
Fax: (473) 444-3041
---
---
Biography
Click here to view complete Curriculum Vitae
Dr. Macpherson received a PhD, Parasitology/Epidemiology and DIC, Diploma of Imperial College in 1981 and began his research career as a Research Assistant, Imperial College, London. In 1983 he accepted the responsibility as Field Project Leader, African Medical Research and Education Foundation (AMREF), Nairobi, Kenya and was appointed as the director of a national cystic echinoccosis pilot control program in Turkana District, North-West Kenya where he coordinated a professional team of veterinarians, physicians and scientists and local staff, conducted and organized fundraising activities. In 1988 Dr. Macpherson became the Director, Swiss Tropical Institute Field Laboratory, (STIFL), Ifakara, Tanzania, East Africa with similar responsibilities on a much larger operational scale.
Dr. Macpherson continued his research and teaching career in 1991 as Professor of Veterinary Parasitology, University of the West Indies, (UWI), St Augustine, Trinidad, West Indies, and since 1993 he has served in many capacities at St. George's University, Grenada. Over the course of his teaching career, Dr. Macpherson has Supervised over 60 MSc, MtropMed, MD/MSc and PhD students in Kenya, Tanzania, India, the UK, Nevis, and Grenada.
Some of Dr. Macpherson's more recent consulting activities include working on Libya's national Hydatid Disease control program in 1996, conducting community based Cystic echinococcosis ultrasound surveillance studies in Morocco (2000), Uganda (2004), Romania (2006) and Turkey (2005).
In 2005, Dr. Macpherson received the Pfizer award for research excellence, School of Veterinary Medicine, and in 2007 the Award for research excellence, SGU 30th Anniversary.
Current editorial boards served on include the Africa Journal for Animal and Biomedical Sciences, and the West Indian Veterinary Journal. He reviews for more than 15 different international journals.
Areas of Interest
Parasitology, Tropical Medicine, Epidemiology of Parasitic Zoonoses, Ultrasound for Tropical Parasitic Diseases
Affiliations
Director and Vice President, Windward Islands Research and Education Foundation, WINDREF Advisory Council of The International Medical Education Trust 2000, London Fellow, Royal Society of Tropical Medicine and Hygiene., Elected member, Society of Phi Zeta., Elected associate member, European Veterinary Parasitology College., Observer, Caribbean Health Research Council., Member, World Association for the Advancement of Veterinary Parasitology, International Congress of Hydatidology, American Society of Tropical Medicine and Hygiene, Grenada Public Health Association, American Society for Ultrasound, The New York Academy of Sciences. WHO\IWGE network on echinococcosis, Global Alliance for the Elimination of Lymphatic Filariasis, Global Health Educational Consortium, FAO\OIE International network on veterinary public health.
Selected Publications
Macpherson, C.N.L., Romig, T., Zeyhle, E., Rees, P.H. and Were, J.B.O. (1987). Portable ultrasound scanner verses serology in screening for hydatid cysts in a nomadic population. Lancet, i: 259-261.
Macpherson, C.N.L., Gottstein, B. and Geerts, S. (2000). Parasitic food-borne and water-borne zoonoses. In: Pastoret, P.-P. (Coordinator), An Update on Zoonoses. Revue Scientifique et Technique Office International des Epizooties, 19: 240 – 258. This chapter was reprinted in Spanish in Laboratorio Veterinario, Avediea, 20: 2–2 4 (2001).
Macpherson, C.N.L., Bartholomot, B. and Frider, B. (2003). Application of ultrasound in diagnosis, treatment, epidemiology, public health and control of Echinococcus granulosus and E. Multilocularis. In: Craig, P.S. nad McManus, D.P. (Eds), Echinococcosis: transmission biology and epidemiology. Parasitology, 127: S21-S35.
Macpherson, C.N.L., Kachani, M., Lyagoubi, M., Berada, M., Bouslikhane, M., Shepherd, M., Fields, P.F. and El Hasnaoui, E. (2004). Cystic echinococcosis in the Berber of the Mid Atlas Mountains, Morocco: New insights into the natural history of cystic hydatid disease in humans. Annals of Tropical Medicine and Parasitology, 98: 481-490.
Macpherson, C.N.L. (2005). Human behaviour and the epidemiology of parasitic zoonoses. International Journal of Parasitology, 35, 1319 – 1331.
Selected Projects
Dr. Calum NL Macpherson and Dr John Zabriskie, Rockefeller. Study of Rheumatic fever in Grenada and St Vincent. Grant from the Lonsbury Foundation, (2000 – 2007)
Dr. Calum NL Macpherson and Dr Paul Garner, Liverpool School of Tropical Medicine. Effective Health Care Alliance Program – veterinary aspects. Grant from DFID (2000 – 2005)
Dr. Calum NL Macpherson and Dr Malika Kachani, Institut Agronomie Veterinaire, Morocco. Control of Echinococcus granulosus in the mid Atlas mountains. Morocco, Grant from HPI (2001)
Dr. Calum NL Macpherson. WINDREF center projects, Grants from various donors, (2000 – 2006)
Dr. Calum NL Macpherson. Lymphatic filariasis. from the Liverpool Support Center
Dr. Calum NL Macpherson, Ministry of Agriculture. Dry Forest Action Plan. GEF, World Bank
https://www.sgu.edu/wp-content/uploads/2016/12/Macpherson-Calum.jpg
428
387
VS
https://www.sgu.edu/sgu-main-website/wp-content/uploads/2016/01/SGU-Signature-Horizontal-SPOT-300x55.png
VS
2016-12-27 21:55:40
2018-04-19 17:23:17
Calum N.L. Macpherson, PhD, DIC