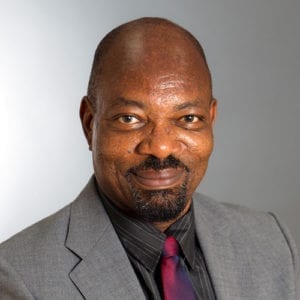 Emmanuel O. Keku, MA, MSPH, MD, FAHA
Professor of Epidemiology
Department of Public Health and Preventive Medicine
Email: ekeku@sgu.edu
Website: https://www.sgu.edu
Phone: (473) 444-4175 ext. 2026
Fax: (473) 444-1219
---
---
Biography
Click here to view complete Curriculum Vitae
Dr. Keku's educational background includes a BA in Biological Sciences and an MA in Education from Wake Forest University, Winston-Salem, NC. He has also completed a Master of Science in Public Health (MSPH) and All But Dissertation (ABD) in Epidemiology, School of Public Health, and a Doctor of Medicine (MD) from the School of Medicine, University of North Carolina at Chapel Hill, Chapel Hill, NC. Dr. Keku completed several fellowships in Cardiovascular Diseases (CVD) epidemiology, presented by the Council on Epidemiology and Prevention, American Heart Association at Lake Tahoe, California, funded by National Heart Lung and Blood Institute (NHLBI), and Genetic Approaches to Complex Heart, Lung, Blood Diseases, Funded by NHLBI, The Jackson Laboratory, Bar Harbor, Maine.
Dr. Keku is currently an Associate Professor of Epidemiology in the Department of Public Health and Preventive Medicine, St. Georges University, School of Medicine, Grenada, West Indies. He is also the Chair of thesis committee for three (3) MSPH and is presently developing proposals to evaluate the magnitude of chronic diseases (CVD, Cancer, HPV, and HIV/AIDS) in Grenada, West Indies.
Prior to his faculty appointment at SGU, Dr. Keku served as physician and Senior Medical Epidemiologist at the Jackson Heart Study (JHS), Jackson, MS. In addition to teaching at the School of Health Sciences, Jackson State University (JSU), Dr. Keku's research activities at JHS as the Director of Surveillance included serving as the JHS Co-Principal Investigator (Phase I) and Co-Investigator (Phase II).
Dr. Keku is currently a peer reviewer for American Public Health Association, Epidemiology section, International J. of Environmental Research & Public Health, Journal of National Medical Association and Journal of Ethnicity and Health.
Areas of Interest
Chronic Disease Epidemiology, Cancer, Cardiovascular Diseases (CVD), Obesity, Nutritional Determinants of Chronic Diseases, Genetic Determinants Of Diseases, and Clinical Trials, Infectious Disease Epidemiology - Emerging Infectious Disease, HIV and HPV
Affiliations
American Medical Association, Student National Medical Association, American Public Health Association
Selected Publications
Keku E, Rosamond, W, Taylor, HA, Garrison, R, Wyatt, SB, Richard, M, Jenkins, B, Reeves, L, Sarpong, D. Cardiovascular Disease Event Classification in The Jackson Heart Study: Methods and procedures. Ethnicity and Diseases 2005 Autumn. 15[4 Suppl 6]:S6-62-70.
Keku E, Gerard P, Sims M, Sarpong D. Prevalence and correlates of overweight in public school children of Tupelo, Mississippi. APHA 2005
Rhoads JM, Ulshen MH, Keku E, Chen W, Kandil HM, Woodard P, Liu SC, Fuller CR, Leary LH, Lecce JG. Oral Transforming growth factor- alpha enhances jejunal mucosal recovery and electrical resistance in piglet rotavirus enteritis. Pediatric Research 1995 Aug, 38(2):173-81.
Woodard JP, Chen W, Keku E, Liu SC, Lecce JG, Rhoads JM. Altered jejunal potassium (Rb+) transport in piglet rotavirus enteritis. American Journal of Physiology 1993;265(2 pt 1):G388-93.
Rhoads JM, Keku E, Quinn J, Woosley J, Lecce J. L-Glutamine stimulates jejunal sodium and chloride absorption in pig rotavirus enteritis. Gastroenterology 1991; 100:683.
Selected Projects
Keku, EO, (Primary Investigator)"Project Export": Center of Excellence in Minority Health, Cardiovascular Diseases (CVD) Research Core/Component: "Obesity Reduction through Mall-Walk in Ethnic Minority Population," Jackson, MS, U. S. Department of Health and Human Services/National Center for Minority Health and Health Disparities (NCMHD), Excellence in Partnerships for Community Outreach, Research, on Health Disparities & Training, 09/30/2003-08/31/2008
Keku, EO, (Primary Investigator)"A Pilot Study: The Jackson Medical Mall Walkers Survey, Jackson, MS," 2002
Keku, EO, (Primary Investigator) "The Prevalence and Correlates of Overweight School Children in Tupelo, MS," Health Care Foundation of North Mississippi, Tupelo, MS, 2001.
Keku, EO, (Co-Primary Investigator/Investigator) "Jackson Heart Study: The Prospective Study of Cardiovascular Diseases (CVD) in African Americans of Metropolitan Jackson, MS," National Heart, Lung, and Blood Institute (NHLBI). Institutions: University of Mississippi Medical Center, Jackson State University, Tougaloo College, Phase I & II, 6/1999-5/2013
https://www.sgu.edu/wp-content/uploads/2016/12/KEKU-Emmanuel-20120921_IMG_0186.jpg
500
500
VS
https://www.sgu.edu/sgu-main-website/wp-content/uploads/2016/01/SGU-Signature-Horizontal-SPOT-300x55.png
VS
2016-12-27 19:58:49
2017-04-05 14:18:00
Emmanuel O. Keku, MA, MSPH, MD, FAHA