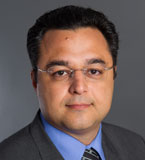 Marios Loukas, MD, PhD
Professor
Department of Anatomical Sciences
Email: mloukas@sgu.edu
Website: https://www.sgu.edu
Phone: (473) 444-4175 ext. 2005/2008
Fax: (473) 444-2887
---
---
Biography
After receiving a MD in 2000 from the Warsaw University, Medical School, Warsaw, Poland, Dr. Marios Loukas earned a PhD, Pathology, in 2003 from the Institute of Rheumatology, Department of Pathology, Warsaw, Poland. Dr Loukas completed a postdoctoral fellowship position at University Clinic, Department of Internal Medicine, Ulm, Germany during 2001-2003.
During the years 2000-2007, Dr. Loukas held the positions of lecturer and instructor of Anatomy, Histology and Radiology, with Harvard Medical School, Department of Education and Development.
Dr. Loukas joined St. George's University, School of Medicine, Department of Anatomical Sciences, in 2005 and is currently Associate Professor of Anatomy. He is also an adjunct Associate Professor of Anatomy in the Department of Anatomical Sciences, School of Veterinary Medicine. His previous faculty position as Associate Professor of Anatomy was with the Department of Anatomy, American University of the Caribbean.
Dr. Loukas has received several research awards over the course of his career including Best Education Paper for 2007, Herbert M. Stauffer Award, Association of University Radiologists and Award for the best research activity National Congress of Cardiology, Gdansk, Poland. 1999. Teaching awards received include Harvard Medical School Excellence in Tutoring Award 2007, and Keynote Speaker, White Coat Ceremony 2005, American University of the Caribbean.
Dr. Loukas is currently an ad hoc reviewer for many peer reviewed journals and is associate editor for Neuroanatomy and Clinical Anatomy.
Areas of Interest
Cardiac Anatomy, Cardiovascular Pathology, Surgical Anatomy and Technique, Arteriogenesis, Angiogenesis, Medical Education, History of Medicine, Molecular Biology, Teaching, Learning & Assessment, Ultrasound, Medical Education, Anatomical Services
Affiliations
Member, American Association of Anatomists, American Association of Clinical Anatomists, European Association of Clinical Anatomists, Microscopic Society of America, Society of Cardiovascular Pathology, Association for Medical Education in Europe, Research Fellow, Windward Islands Research and Education Foundation (WINDREF)
Selected Publications
Loukas M, Bilinsky S, Bilinsky E, Petru M, Anderson RH. The clinical anatomy of the coronary collateral circulation. Clin Anat. 2009 Jan; 22(1):146-60.
Loukas M, Kinsella CR Jr, Kapos T, Tubbs RS, Ramachandra S. Anatomical variation in arterial supply of the mandible with special regard to implant placement. Int J Oral Maxillofac Surg. 2008 Apr; 37(4):367-71.
Loukas M, Louis RG Jr, Tubbs RS, Wartmann C, Colborn GL. Intra-abdominal laparoscopic pudendal canal decompression - a feasibility study. Surg Endosc. 2008 Jun; 22(6):1525-32.
Loukas M, Kinsella CR Jr, Louis RG Jr, Gandhi S, Curry B. Surgical anatomy of the accessory phrenic nerve. Ann Thorac Surg. 2006 Nov; 82(5):1870-5.
Tubbs RS, Shaffer WA, Loukas M, Shoja MM, Oakes WJ. The long thoracic nerve as a donor for facial nerve reanimation procedures: cadaveric feasibility study: laboratory investigation. J Neurosurg. 2008 Jun; 108(6):1225-9.
Selected Projects
Loukas, M. Intra Intra-abdominal Laparoscopic Pudendal Canal Decompression – A Feasibility Study. WINDREF, SGU. 2007
Loukas, M. The Surgical anatomy of the occipital nerves' contributions to the development and treatment of occipital neuralgia. WINDREF, SGU. 2006
https://www.sgu.edu/wp-content/uploads/2016/12/marios-loukas.jpg
160
145
VS
https://www.sgu.edu/sgu-main-website/wp-content/uploads/2016/01/SGU-Signature-Horizontal-SPOT-300x55.png
VS
2016-12-27 21:03:53
2018-04-19 17:17:54
Marios Loukas, MD, PhD