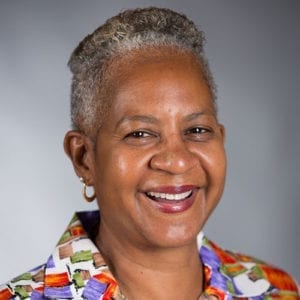 ---
Biography
Click here to view complete Curriculum Vitae
Dr. Pinckney received a PhD (cum laude) in Biomedical Sciences and Veterinary Parasitology, Auburn University, College of Veterinary Medicine, Department of Pathobiology, Auburn, Alabama, (1994). Her previous education includes a DVM from Tuskegee University (1986), a MS (cum laude), Veterinary Parasitology, Oklahoma State University, (1980), and a BS, Animal Science/General Agriculture, Purdue University, (1976).
Dr. Pinckney is currently a professor with the School of Veterinary Medicine, Department of Pathobiology, St. George's University, Grenada, West Indies. Some of Dr. Pinckney's previous experience includes Public Health Laboratory Assistant at the Madison Department of Public Health, Environmental Health Services, Instructor at the Madison Area Technical College, Veterinary Technician Program, and Assistant Professor at the University of Wisconsin-Madison, School of Veterinary Medicine, Department of Pathobiological Sciences, Madison, Wisconsin.
Dr. Pinckney served her country honorably from November 1981 to November 1995 as a Captain, U.S. Army Reserves, Veterinary Corps, with active duty with the Armed Forces Institute of Pathology, veterinary activity units in Washington, DC, Virginia, and Maryland, including food inspection and sanitation support for military commissaries.
Dr. Pinckney has received several teaching awards and recognition, most recently including President of the International/National Phi Zeta Honor Society (2009-2011), Carl Norden-Pfizer Distinguished Teaching Award (2007), Outstanding Professor in the SGU SVM Department of Paraclinical Studies (2005-2006), and a Certificate of Merit for Exceptional contributions to the undergraduate mentor program, University of Wisconsin-Madison, (1997). Dr. Pinckney is currently an Ad Hoc Journal Reviewer for the Journal of Parasitology and the Journal of Epidemiology and Infection.
Areas of Interest
Zoonotic Diseases, Infectious Diseases, Parasites of Public Health Significance, Parasitic Diseases, Parasitology and Tropical Medicine, Community Outreach Programs
Selected Publications
C. Coomansingh, M. Yabsley, N. Wagner, R. Pinckney, M. I. Bhaiyat, A.Chikweto, C. Macpherson, P. Fields. 2014. Meta-analysis of the prevalence of Dirofilaria immitis in dogs fromGrenada, West Indies. International Journal of Veterinary Medicine Research and Reports (in press ).
M.C.Drake, U. Zieger, A. Groszkowski, B. Gallardo, P. Sages, R. Reavis, L. Faircloth, K. Jacobson, N. Lonce, R.D.Pinckney, R.A. Cole. 2014. Survey of helminthes, ectoparasites and Chytrid Fungus of an introduced population of cane toads, Rhinella marina (Anura: Bufonidae), from Grenada. Journal of Parasitology, 100(5): 608-615, doi: 10.1645/13-470.1
T. E. Paterson, R. E. Halliwel, P. J. Fields, M. L. Louw, B. Ball, J. Louw, R. Pinckney. 2014. Canine generalizeddemodicosis treated with varying doses of 2.5% moxidectin + 10% imidacloprid spot-on and oral ivermectin: parasiticidal effects and long-term treatment outcomes. Veterinary Parasitology,http://dx.doi.org/10.1016/j.vetpara.2014.08.021.
W.R.B.Sylvester, V. Amadi, C. Hegamin-Younger, R. Pinckney, C.N.L.Macpherson, J.S. McKibben, R. Bruhl-Day, K.D. John-Sylvester, H. Hariharan. Occurrence of antibiotic resistant Escherichia coliingreen iguanas (Iguana iguana ) inGrenada, West Indies. 2014. International Journal of Veterinary Medicine - Research & Reports. Published online: DOI: 10.5171/2014.260412.
Selected Projects
"Development of diagnostic protocols for diseases affecting Grenadian honeybee apiaries." D. Fitzpatrick (PI), A. Werners, R. Pinckney, D. Mitchell, Q. Andrews (Grenada Ministry of Agriculture), J. Ellis (Assistant Professor of Entomology, University of Florida; Adjunct Faculty at SGU), J. Evans (Research Entomologist, USDA-ARS, Beltsville, Maryland, USA).
"The prevalence and identification of parasites in related species of commercially important fish in Grenada." N. Worme (PI), R. Pinckney, J. McKibben and H. Ferguson (Co-PI's).
https://www.sgu.edu/wp-content/uploads/2017/01/PINCKNEY-Rhonda-20160309_0380.jpg
500
500
VS
https://www.sgu.edu/sgu-main-website/wp-content/uploads/2016/01/SGU-Signature-Horizontal-SPOT-300x55.png
VS
2017-01-09 21:25:33
2018-04-19 00:44:23
Rhonda D. Pinckney, M.S., DVM, PhD