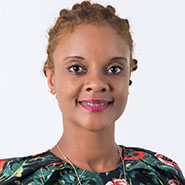 Afia Joseph, BSc, MBA
Graduation Date: 2014
Grenada
For Afia Joseph and many other young Grenadians, St. George's University provided an opportunity for personal and professional growth and development, while also allowing them to study close to home.
Just over a decade since she started her journey, Ms. Joseph is equipped with both a Master of Business Administration and a Bachelor of Science in accounting from SGU. She is now the Managing Director at Glenelg Spring Water Inc., a position that unites her two passions.
"What attracted me to SGU were the opportunities it offered to us, the young people of Grenada—those of us who could not afford to travel to attend a university abroad or didn't possess the necessary qualifications to enter our already limited job market," said Ms. Joseph. "For Grenadians, SGU allows us to follow our dreams by presenting a chance to afford an excellent university education and obtain a college degree or higher, which opens doors that would've remained closed had you not had a degree. SGU makes dreams possible."
As a visionary leader and innovative executive, Ms. Joseph has been with Glenelg for more than 10 years, working her way up from Financial Manager/Accountant to Marketing and Development Manager to finally serving as Managing Director for the past two years.
"While at Glenelg, I have spearheaded strategic change and structural adjustments, which have led to the sustainability and survival of the business within a very competitive industry," said Ms. Joseph. "With my proven track record in the management of financial resources, especially cash flow management, I have been able to steer our team in the direction of the vision for the company while keeping on task to meet all goals within the next five years."
Exhibiting leadership skills from an early age, Ms. Joseph credits the Grenada Junior Achievers, a youth leadership program for high school students, with kindling the flame of her leadership instincts, and St. George's University with fueling the fire. During the seven years she spent at SGU, Ms. Joseph was also the President of the Business Students Association, a role she feels undoubtedly assisted in the development of her leadership skills.
"Through SGU, I started my growth path to leadership. When you have learned organizational skills and how to respect deadlines at school, this carries over into the workplace," added Ms. Joseph. "Also, while my primary interest is in business development and management, I am a firm believer in entrepreneurship. One of my goals is to help our young entrepreneurs navigate the challenges in achieving successful businesses in Grenada."
Published October 2017
Find out if St. George's University is right for you.
https://www.sgu.edu/wp-content/uploads/2020/02/sgu-logo-grenada.svg
0
0
bpmauser
https://www.sgu.edu/wp-content/uploads/2020/02/sgu-logo-grenada.svg
bpmauser
2017-10-30 21:30:04
2021-11-30 12:56:42
Afia Joseph, BSc, MBA