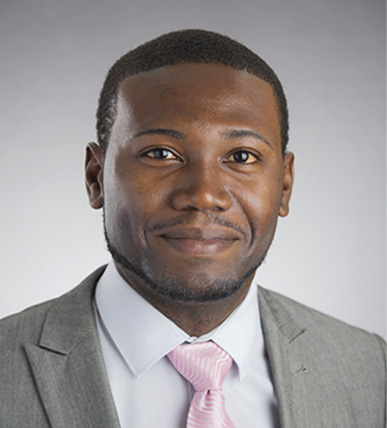 Mondel George, MD, BSc
Graduation Date: 2015
Grenada
General Practice
At a young age—just 17—Mondel George set off on his journey to become a physician. Born and raised in Grenada, he didn't have to travel far to attend his dream school.
"St. George's University was then, and still is, the most prestigious institution in the Caribbean, so there was nowhere else I would have rather attended," said Dr. George, a 2015 School of Medicine graduate.
In addition to being a general practitioner on the island, Dr. George pays it forward at his alma mater by working as a learning strategist in the Department of Educational Services, providing medical students with the tools and tips to succeed both in their studies and in their careers.
His contribution is part of a network of support that helps the entire student body, just as it did for him through his undergraduate and medical studies at SGU.
"One thing that really sets SGU apart from other institutions is the amount of support that is offered to its students," stated Dr. George. "There are numerous avenues for helping students, from the Psychological Services Center to University Health Services, including the Department of Educational Services and faculty open office hours. As a student, if you're ever in need, there is someone here to help you at SGU."
While pursuing his Bachelor of Science within the School of Arts and Sciences (SAS), Dr. George was also a member of the Undergraduate Student Government Association and the Caribbean Students Association, while also serving as a teaching assistant and a volunteer at the SGU radio station. After completing his bachelor's degree in three-and-a-half years, he took the summer off to work in Grenada's Ministry of Agriculture.
In the past, he had volunteered with the Sickle Cell Association of Grenada, with mental health organizations, and at his local church. With a desire to help those in need, he applied to SGU's School of Medicine program and received a scholarship to attend.
"When I started medical school, I felt like the foundation I had in SAS was incomparable to those students who did not previously attend SGU," added Dr. George. "I was not only familiar with the campus but also with the professors, the test-taking formats, and the different resources I could go to for help. I never once felt like I was left alone in the wilderness. I feel like the lecturers here at SGU do an excellent job in terms of guiding you toward having a successful career."
Dr. George greatly appreciates the foundation that SGU has created, which he is building upon to this day. He is a Charter Class member of SGU's Master of Education program, with a graduation date of May 2018. Dr. George encourages others to follow a similar path to achieve their own goals.
"As an international university that is well respected, the diversity that SGU offers in unlike any other," he said. "The connections that I made in undergrad are still present in my life today. The hands-on support that the University offered prepared me well to enter such a noble profession."
Published October 2017
Find out if St. George's University is right for you.
https://www.sgu.edu/wp-content/uploads/2020/02/sgu-logo-grenada.svg
0
0
bpmauser
https://www.sgu.edu/wp-content/uploads/2020/02/sgu-logo-grenada.svg
bpmauser
2017-10-25 21:08:05
2021-01-20 19:24:04
Mondel George, MD, BSc