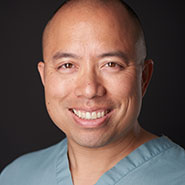 Mel Ona, MD
Graduation Date: 2009
United States
Private Practice, Oahu, Hawaii
Gastroenterology
As a basic science student at St. George's University, Mel Ona, MD SGU '09, absorbed all he could from the paradise that surrounded him, all while working toward a degree and his dream of being a physician.
Nearly a decade later, he has landed in paradise once again, this time settling in Hawaii, where he joined a single-specialty private gastroenterology group practice in Oahu this summer.
"It's been quite a journey," he said. "I'm looking forward to applying my skills, and I feel that I have the toolset to care for someone who needs help in any part of the GI field."
Dr. Ona relocated to Hawaii from Los Angeles, where he recently completed a rigorous and highly sought-after one-year advanced endoscopy GI fellowship at Cedars-Sinai Medical Center. Previously, he had finished his internal medicine residency at Lutheran Medical Center in New York, including serving as Chief Resident for 2011-12. Dr. Ona then completed a three-year GI fellowship at The Brooklyn Hospital Center before heading to LA.
And now, he's saying hello to the Aloha State.
"With this new position, it's a great group and it's much more intimate than what I'm used to, so I think I'll be able to greatly utilize my skills and knowledge," he said. "I'm excited to be working and learning with such a talented group."
In addition to his clinical role, Dr. Ona looks forward to volunteering and teaching at John A. Burns School of Medicine in Honolulu. The relocation also brings him closer to his parents, who moved to Hawaii 18 years ago.
His father, Fernando, is a gastroenterologist in Honolulu, and Dr. Ona's exposure to the field at an early age bred his own interest. Gastroenterology marries two of his passions—medicine and nutrition—making it an attractive career path.
"I like having the balance of medicine and procedures," he said. "It gives you the opportunity to take care of patients in a multitude of ways."
In addition, he hopes to follow in his father's footsteps altruistically. In 1997, Dr. Fernando Ona established the Melchor and Martina Ona Memorial Health Center—named for his parents—which serves 10 villages in the town of Santo Tomas, Batangas, Philippines. Mel hopes to join his father on medical missions to provide free healthcare to a rural community where many residents are malnourished.
"It's a beautiful clinic," he said. "We are proud of everything that it offers, and I aspire to continue doing the great work that's being done."
At first, Dr. Ona had steered his career in a completely different direction—music. He grew up playing several instruments, leading him to earn a degree in music from the College of the Holy Cross in 1993. It wasn't until 2005 that he enrolled at St. George's University, in the meantime building his application with a Master of Arts in medical science and Master of Public Health from Boston University, and a Master of Science in nutritional biochemistry and metabolism from Tufts University.
He immediately began building his network of mentors, beginning with his application interviewer – Stephanie Weiss, MD SGU '99, now the Chief of the Division of Neurologic Oncology at the Fox Chase Cancer Center in Philadelphia. Others included Paul Barbara, MD SGU '04, an emergency medicine physician and Office of Career Guidance representative; and faculty members Marios Loukas and Feisal Brahim.
"SGU gave me a sense of being part of a community," Dr. Ona said. "You meet all these brilliant minds who are doing amazing things, and the campus is so diverse. I felt really blessed to be at SGU. I gave it as much as I could, and I got a lot in return.
"I'm deeply grateful," he added. "The fears and the doubts have made me appreciate the journey more. It wasn't all me; it was a team effort."
As his own career has budded, Dr. Ona has made a point to pay it forward. He has penned several books, including 101 Tips for Thriving as a Chief Resident and Tips for Thriving on the Internal Medicine Wards, and he would welcome the opportunity to mentor SGU students who are seeking guidance.
"You have to work hard, but SGU gave all of us that vehicle to prove to ourselves that we can make it," he said. "It's prepared me well, and it's going to be with me forever."
Published September 2017 
Find out if St. George's University is right for you.
https://www.sgu.edu/wp-content/uploads/2020/02/sgu-logo-grenada.svg
0
0
bpmauser
https://www.sgu.edu/wp-content/uploads/2020/02/sgu-logo-grenada.svg
bpmauser
2017-09-13 17:53:15
2021-01-20 18:57:30
Mel Ona, MD