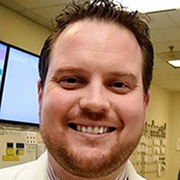 Zachary Klaassen, MD
Graduation Date: 2010
Canada
Medical research started as a curiosity when Zachary Klaassen was a student at St. George's University. It soon blossomed into a hobby, and then a passion, and it's now an integral part of the 2010 graduate's future in medicine. A urologic oncology fellow at the University of Toronto, Dr. Klaassen is also working toward a Master of Science in clinical epidemiology and health care research at the Institute of Health Policy Management and Evaluation.
"I love taking care of the patient, and I equally love trying to figure out how to make care better," said Dr. Klaassen, who will join the faculty at the Medical College of Georgia (MCG) following his fellowship. "Ten years ago, I might have said that research would make up less than 10 percent of what I would do. It's probably greater than 50 percent now, and if you asked me what my dream job was, I would say 50 percent clinical and 50 percent research."
His fondness for research began when he launched and directed SGU's Medical Student Research Institute (MSRI) with Dr. Marios Loukas, then Dean of Research, and Dr. Ronald Chamberlain, Chairman, St. Barnabas Health in New Jersey. Dr. Klaassen soon discovered that he both enjoyed conducting research and was efficient at it. He earned the Senior Medical Student Research Competition Award and graduated magna cum laude with research distinction. Dr. Klaassen has since co-written four book chapters, been published in more than 65 peer-reviewed journals, and presented his research at over 35 regional and national conferences.
Research complements the clinical training he's receiving at U of T. The first year of fellowship has been spent predominantly in research, allowing Dr. Klaassen and his colleagues to present cases at renal tumor and multidisciplinary bladder cancer conferences. In year two, however, fellows dedicate their time to patient care and surgery and move into junior faculty positions.
"It's a great program, and so far it's been excellent," Dr. Klaassen said. "In urologic oncology, you have to enjoy the big, six- to 12-hour surgeries, which I do, and I'm also able to talk to the patients and their families, rather than just treat the cancer. I can't see myself doing anything else."
Like research, urology wasn't always the primary goal. Dr. Klaassen had expected to specialize in vascular surgery until he was invited to shadow a family friend who practiced urology in New Jersey, a three-day experience that changed the course of his career.
"The beauty of urology is it's very specialized, but within the specialty, it's huge," Dr. Klaassen said. "I loved the breadth of the procedures and the patient population, and I found that, generally, the urologists' personality fit with mine."
Despite being one of the most competitive fields in medicine, Dr. Klaassen matched into a urology residency at the Medical College of Georgia at Georgia Regents University (now Augusta University). He was named urology chief resident, and ultimately Resident of the Year, for 2015-16 at MCG and looks forward to joining its faculty following his two years of fellowship.
Dr. Klaassen has also served as a visiting professor for SGU, to which he arrived after obtaining Bachelor of Science degrees in molecular biology and biochemistry in 2005. In Canada, he experienced both rural and city life, having been born in Main Centre, a town of 12 people in the prairie province of Saskatchewan, before moving to Vancouver, British Columbia. Dr. Klaassen had been turned down by highly competitive Canadian medical schools and instead entered a vibrant and diverse community of students in Grenada. In addition to his MSRI tenure, he participated in the Surgery and Anatomy Dissection Clubs.
"It was an amazing, multicultural experience that you never would know you were missing if you haven't experienced it," Dr. Klaassen said. "Academically, it was second to none; I went down there and received excellent training. I was able to funnel my energy toward really learning the basic sciences and doing well on my boards.
"Between the academic experience and the life experience, I couldn't see doing it any other way," he continued. "I would never have experienced all that SGU had to offer if I had stayed in Vancouver, and I'm so thankful for the opportunity to get out of the box, to experience other places, and gain the perspective that I did."
Find out if St. George's University is right for you.
https://www.sgu.edu/wp-content/uploads/2020/02/sgu-logo-grenada.svg
0
0
Erin Shaw
https://www.sgu.edu/wp-content/uploads/2020/02/sgu-logo-grenada.svg
Erin Shaw
2016-12-07 20:17:33
2021-01-21 21:45:12
Zachary Klaassen, MD