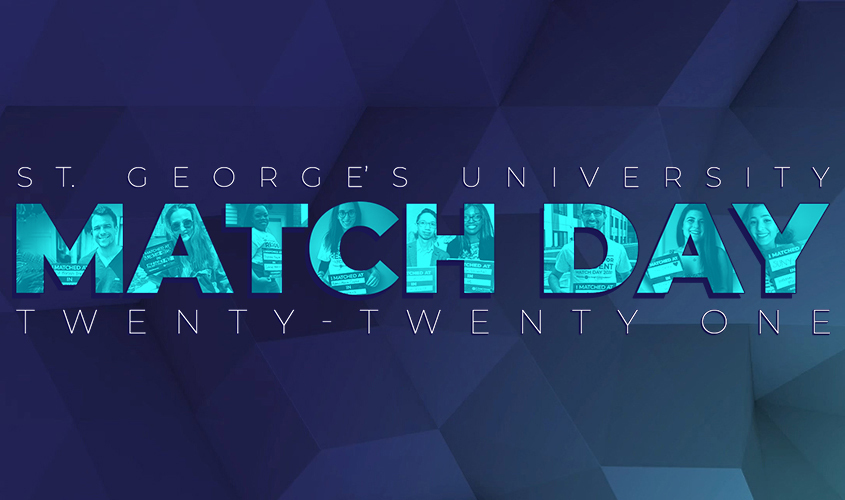 At a time when the world needs more physicians, St. George's University graduates are prepared to answer the call. On Match Day 2021, more than 1,025 SGU students and alumni learned of where they'll begin their residencies this summer, joining a vast network of physicians who have made an indelible impact on healthcare worldwide.
The newly matched residents will train in specialties that include neurology, pediatrics, emergency medicine, and more. Dozens more will secure residency positions in the days and weeks to come.
"Match Day marks an important step in the life of every doctor," said Dr. G. Richard Olds, president of St. George's University. "The entire SGU community is proud of the hard work our students have put in, and we wish them the very best as they prepare to start their careers officially."
SGU continues to assist the US in addressing the projected doctor shortage of up to 139,000 physicians across primary and specialty care, according to the Association of American Medical Colleges (AAMC). On average, one in three St. George's graduates work in medically underserved areas, which have been disproportionately affected by COVID-19. Many SGU alumni have bravely served on the front lines throughout the pandemic.
"The resilience and skill of countless SGU alumni has been on full display over the course of this pandemic," Dr. Olds said. "We look forward to sending another talented group of students into the world to make a difference in the lives of patients."
The 2021 match class shared their excitement as the next chapter in their careers came into focus.
https://www.sgu.edu/wp-content/uploads/2021/03/MD_hero_845.jpg
500
845
bpmauser
https://www.sgu.edu/wp-content/uploads/2020/02/sgu-logo-grenada.svg
bpmauser
2021-03-19 23:01:16
2021-03-31 19:34:24
Dreams Realized: Future Physicians Secure Residencies on Match Day 2021