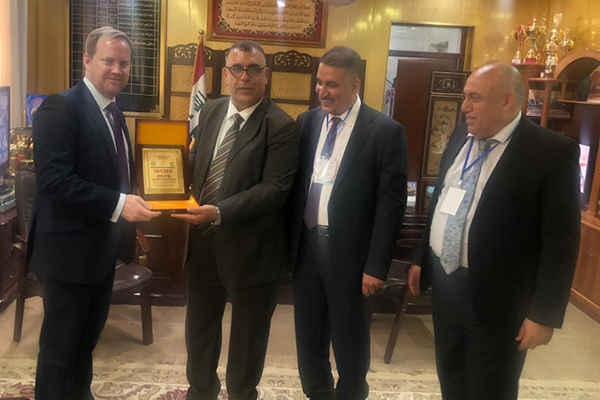 Three members of St. George's University of Grenada School of Medicine/Northumbria University (SGU/NU) Four-Year MD Program faculty presented six platform and four poster presentations at the Second International Scientific Conference of Medical Sciences Institute (ISCMS), held on April 10 and 11 at University of Al-Qadisiyah College of Medicine in Diwaniyah, Iraq.
Following visits to NU's campus in Newcastle, United Kingdom, by the dean, Professor Aqeel Al-Barqawee and nine other Al-Qadisiyah faculty members; Drs. Nahidh Al-Jaberi, clinical instructor; Gordon Bourne, MD '17 clinical tutor; and James Coey, assistant dean of basic science were invited to deliver keynotes at a conference attended by more than 1,000 participants. Delegates included Professor Emad Aldin Toma, chairman of the Iraqi Medical Council, representatives of the Minister of Higher Education and Scientific Research and the Minister of Health, as well as participants from nations including Australia, India, Turkey, and Pakistan.
"The attendance at conference of our international friends from SGU has reinforced our commitment to strengthening academic collaboration between Iraqi medical schools and international counterparts," said Professor Ferdous Al-Tarahi, president of University of Al-Qadasiyah. "We are now developing plans to send students and faculty members for training in UK hospitals and medical schools."
Dr. Al-Jaberi is a graduate of Al-Nahrain College of Medicine in Baghdad, and trained as a physician at Al-Kadhimiya Teaching Hospital. He went on to head of Department of Histology and Embryology at the hospital, and is now a discipline manager and clinical instructor at SGU/NU. He pointed out that Iraq has historically been a center of medical education going back to the establishment of Mesopotamia.
"That rich history means that, in spite of the recent past, its medical practitioners and educators remain committed to excellence and keen to engage with the international medical community," he said.
Dr. Coey is a firm proponent of enabling future physicians to provide evidence-based medicine through "evidence-based medical education." The advancement of medical education in Iraq has been hindered by the academic isolation brought about by conflict, sanctions, and terrorism over the past 30 years.
"As physicians working in the field of medical education, we have a moral and ethical obligation to share best practice so as to enhance patient outcomes across the globe," he said.
The SGU/NU program (formerly the Keith B. Taylor Global Scholars Program) was established to provide students with the opportunity to study within and experience a different healthcare environment and culture. Sharing and exchanging knowledge internationally are at the heart of the program's ethos.
SGU has been an innovator in the field of medical education over the past 40 years, being the first medical school of its kind in the Caribbean. It has now educated more international medical students than all US medical schools combined and contributed more than 16,000 physicians from over 140 countries to the global physician workforce.
The SGU MD program is underpinned by small group sessions of 6-8 students facilitated by medically qualified clinical tutors and instructors. Gordon Bourne, MD '17, clinical tutor and grandson of Geoffrey Bourne, SGU's first vice Chancellor, believes that "using clinical tutors not only reinforces the clinically relevant aspects to prehospital studies but also engenders professionalism through near peer mentorship."
https://www.sgu.edu/wp-content/uploads/2019/05/WhatsApp-Image-2019-04-11-at-20.38.29-1-1.jpeg
500
845
bpmauser
https://www.sgu.edu/wp-content/uploads/2020/02/sgu-logo-grenada.svg
bpmauser
2019-05-10 19:44:41
2021-02-25 21:15:54
Medical Education Without Borders: SGU/NU Faculty Present at Prestigious Scientific Conference in Iraq